【Providence University】2021 Summer Program B (ONLINE) - Mandarin Language and Cultural Communication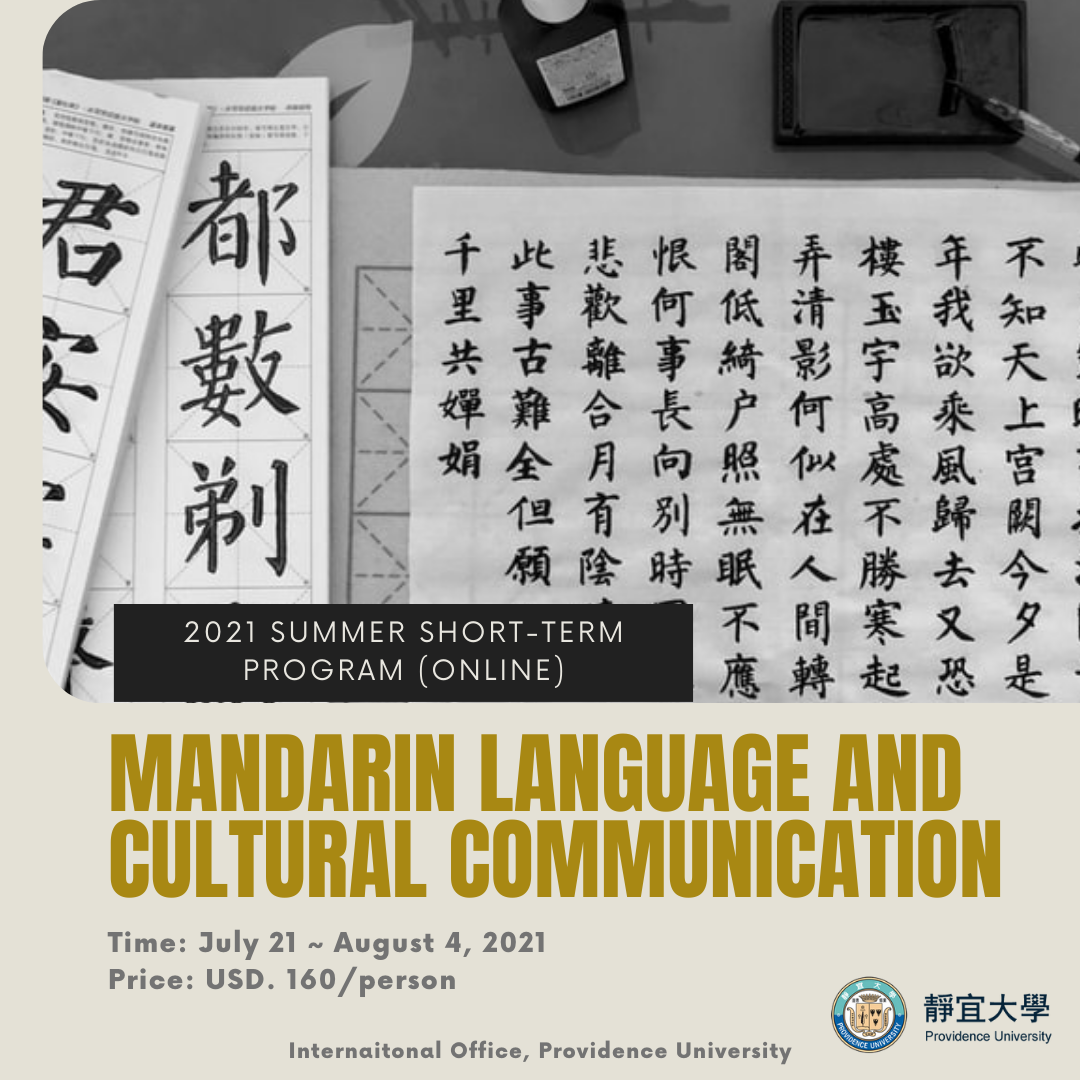 2021 Summer Program (ONLINE) - Mandarin Language and Cultural Communication
Duration: July 21 ~ August 4, 2021 (13:30 - 17:00 @ Taiwan Time Zone (GMT+8))
Welcome to join Providence University 2021 Summer ONLINE Program - Mandarin Language and Cultural Communication!!
In this program, we provide intensive Mandarin Language learning course, Taiwan culture knowledge and Hands-on experience. Also, we arrange PU student buddies who can interact with you for more understanding the life in Taiwan and make new friends!
We hope this online program can provide you an unforgettable experience for learning Mandarin and get to know the beauty of Taiwan culture!

Course Description:
21 hours Mandarin Language Class: Professional teachers from Chinese Language Education Center (CLEC)
We offer two level of Mandarin Language course based on student's proficiency: Beginner level and Intermediate level.
Beginner level: Students who haven't learned Chinese before or within one year.
Intermediate level: Students who have basic knowledgw of Chinese langage.
Students can switch the class if students feel the class is too easy/hard for them.
Lecturer: Dr. Min-Wen Sophie Chang, International College, Providence University
Introduction to Brand management: Why big companies are so keen on Brand Management? This crush course will give you some ideas about what is a brand and why brand management matters in the digital era.
Lecturer: Dr. Daphne LI Huang, Department of English Language, Loterature and Linquistics, Providence University
Taiwan's Cultural Values: This unit introduces Taiwan's mainstream cultural values based on Hofstede's cultural dimension model. Special attention will be paid to gender stereotype and power relation in the Taiwanese society in terms of the cultural dimensions. Case studies will be presented and discussed.
Lecturer: Dr. Philip Lin, Department of Mass Communication, Providence University
Digital Game Culture: From a global perspective, this lecture provides an overview on digital game culture. By introducing a variety of new media theories and approaches, students are expected to learn how to develop their own studies based on the games of their personal interests.
Feedback from previous online program (IG): pustudyabroad IG
Program Schedule: Please download the brochure HERE
Program Duration: July 21 ~ August 4, 2021
Time: 13:30 - 17:00 @ Taiwan Time Zone (GMT+8)
Program Fee: USD. 160/per person
* Minimun number for each Mandarin class is 10 students.
Students who complete this program will get a certificate from Providence University.
Application deadline: Wednesday, June 30, 2021
Online registration: https://forms.gle/8K13kzTgm2VBU2oh6
We will contact you for the following procedure and payment information after receiving your registration.
For further inquiries, please contact us at:
Ms. June Yang: juneyang@gm.pu.edu.tw
Ms. Alanda Chang: ynchang@gm.pu.edu.tw