【Providence University】2021 Summer Program A (ONLINE) - Marketing and Communication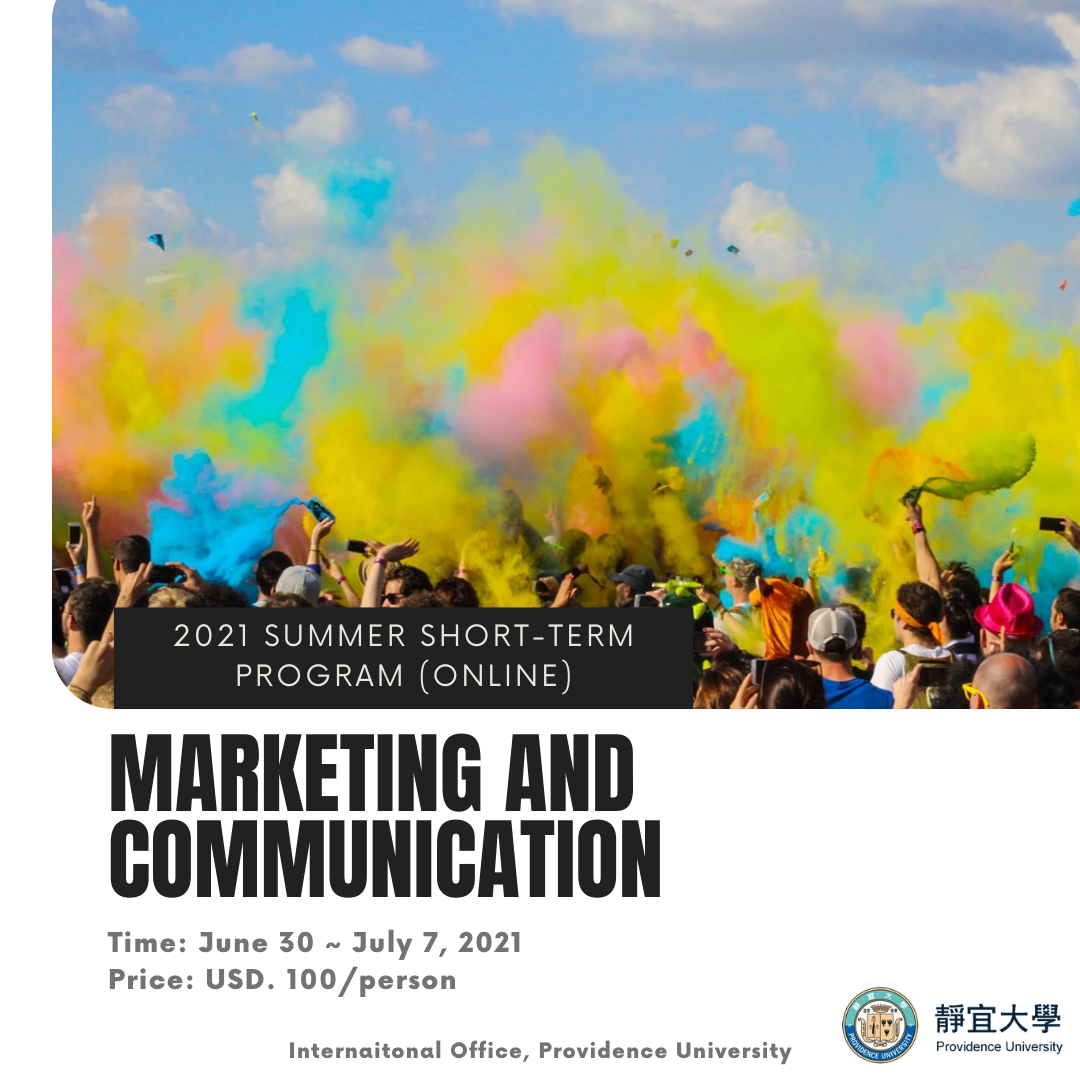 2021 Summer Program (ONLINE) - Marketing and Communication
Duration: June 30 ~ July 7, 2021 (09:30 - 13:00 @ Taiwan Time Zone (GMT+8))
Conducted in English.
In this program, we invite three lecturers who are well experienced to give us special and interesting topics. These topics cover Intercultural Communication, Brand Management, and Digital Game Culture.
Also, we arrange Virtual tour, Hands-on Experience and PU student buddies which provide more opportunities for you to know Taiwan cultures and make friends!
We hope this online program can provide you an unforgettable experience in summer.
Course Description:
Lecturer: Dr. Daphne LI Huang, Department of English Language, Loterature and Linquistics, Providence University
Intercultural communication (1) – Hofstede's cultural dimension model: This unit introduces the cultural dimension model proposed by the Dutch sociopsychologist, Geertz Hofstede, in the context of international business. The model offers a description to various national cultures and facilitates the comparison of national cultures. This model is widely applied in the business and educational contexts and useful in providing a general sketch about cultural differences.

Intercultural communication (2) – Cultural values and communication styles: This unit introduces how cultural values influence communication styles and how different communication styles may lead to communication breakdowns. Particular attention will be paid to request strategies which are sensitive to cultural and contextual factors. Case studies will be presented and discussed.
Lecturer: Dr. Philip Lin, Department of Mass Communication, Providence University
Digital Game Culture: From a global perspective, this lecture provides an overview on digital game culture. By introducing a variety of new media theories and approaches, students are expected to learn how to develop their own studies based on the games of their personal interests.

Game Industries: This lecture aims at presenting more evidence and historical studies about local game culture and gamers. Students are expected to develop their own case studies and research from their choices on specific games and game companies.
Lecturer: Dr. Min-Wen Sophie Chang, International College, Providence University
Introduction to Brand management: Why big companies are so keen on Brand Management? This crush course will give you some ideas about what is a brand and why brand management matters in the digital era.

Build a brand from scratch: It may seem daunting for entrepreneurs to build brands from scratch. This class will use the example of Cama Café to show you how to build a brand from scratch. In this course, I'll also give you a brand management example on your case studies.
Feedback from previous online program (IG): pustudyabroad IG
Program Schedule: Please download the brochure HERE
Program Duration: June 30 ~ July 7, 2021
Time: 09:30 - 13:00 @ Taiwan Time Zone (GMT+8)
Program Fee: USD. 100/per person
* Minimun number of students is 10 students. maximum is 20 students.
Students who complete this program will get a certificate from Providence University.
Application deadline: Thursday, June 10, 2021
Online registration: https://forms.gle/TymeLKF1QC2moUjBA
We will contact you for the following procedure and payment information after receiving your registration.
For further inquiries, please contact us at:
Ms. June Yang: juneyang@gm.pu.edu.tw
Ms. Alanda Chang: ynchang@gm.pu.edu.tw